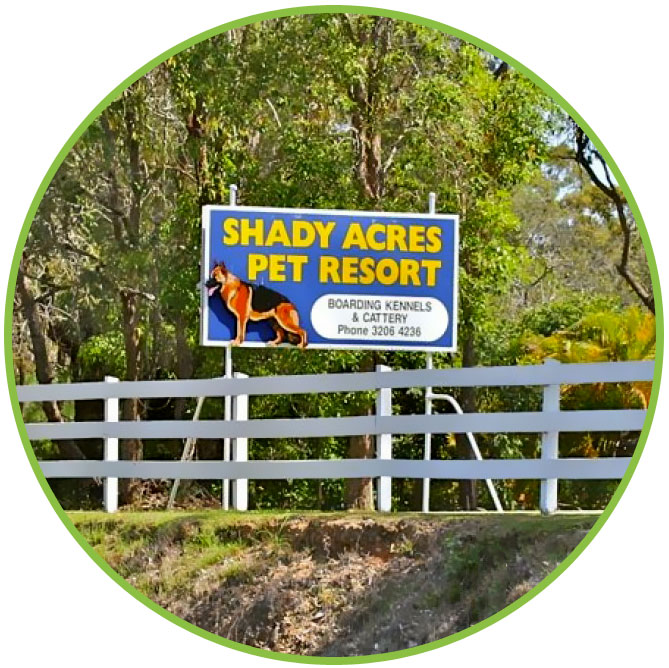 About Shady Acres Pet Resort.
At Shady Acres Pet Resort your pet's wellbeing is our number one priority so you don't have to worry while you're away, and your pet will experience professional Pet Care during their stay. Visit the Kennels for Dogs and Cattery Amenities page to see how your pet is kept comfortable, happy and active. We also provide a convenient Pet Taxi service to ensure you and your pet's holiday begins stress free. If you have any questions head over to the FAQ page, or Contact Us to make a booking
Our location
Shady Acres Boarding Kennel is located at 755 Mt Cotton Rd in Sheldon, within the Redland shire. The exercising grounds are large, shady and grassy, with plenty of open space for all kinds of doggy fun. Situated in South Brisbane surrounded by beautiful national parks and Mt Cotton, Shady Acres is a peaceful and secluded resort where your pet can enjoy the quiet or fulfil their barking or meowing needs. Contact Us for directions or to make a booking.
Angela Brinkworth
Angela Brinkworth, Shady Acres owner, has over 20 years of experience handling and breeding dogs through owning Shady Acres and running Bluemax, one of Australia's top German Shepherd breeders. Angela is the second generation owner of Shady Acres, which has been family owned and run in South Brisbane for over 30 years. Pet care runs in the Brinkworth family, with other family members running their own kennels in Brisbane.
Angela has maintained Shady Acres as one of Brisbane's leading kennels, keeping Shady Acres to the highest standard of pet resort and being Redland City Council approved.